Frightseeing Fundraising Tour Wrap-Up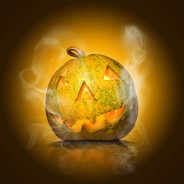 Downtown Houston, Saturday, October 19, 2013
The Smith-Phares Memorial Scholarship Frightseeing Bus Tour certainly put the Fun back in Fundraising! Our intrepid group of Ghostbusters boarded the ghostly white Sierra Trailways luxury coach at 10:00 am and was spirited away for a tour of some of Houston's best-known haunted places. Although it was a bright and beautiful day, our group came prepared with Ghost Radar apps on cell phones, digital cameras at the ready to catch 'orbs and rods' from the spirit world, and vivid imaginations primed for tales of ghosts, ghouls and things that go bump in the night.
Click here to view photos from the 2013 Frightseeing Fundraising Tour
Our first stop was the Julia Ideson Library downtown, a handsome Spanish Renaissance-style building opened in 1926. Volunteer library guide, Pat Vandenburg, gave an excellent tour of the library, telling us about its history, renovation, and the ghost of Jacob Cramer and his faithful dog, Petey, said to roam the 3rd floor library hallways. While Pat instructed us about some of the library's architectural details, eyes probed dark corners and ears strained for sounds of Jacob playing his violin and the scratch, scratch, scratch of Petey's toenails on the wooden floors.
After lunch, next stop on the Frightseeing Tour was Glenwood Cemetery on Washington, 'a romantic, rural cemetery park.' We were fortunate to have Jim Parsons from Preservation Houston as our guide. As we strolled through Glenwood's serene landscape, Jim pointed out the gravesites of the famous and infamous while regaling us with harrowing tales of murder and intrigue in the lives of some of the cemetery's 'notable interred.'
On the way to our next stop, board member Jill Hickman, enthusiastically hawked raffle items to the captive audience! Tickets to a Texans football game, guess-to-win-the-coins-in-the-jar, and a framed photo of the moon were among the prizes won on our way to 'one of the creepiest spots in Houston.'
The old Jefferson Davis Hospital, our next stop, once held that dubious title. Since its recent renovation and transformation, it is enjoying a new lease on life as the Elder Street Artists' Lofts. On a bright, sunny day, at first glance, it does not seem in the least bit menacing …but what sends shivers down spines is the knowledge that the hospital was built on land that was once a cemetery. Actually built on top of the cemetery, headstones et al …cell phones were quickly checked for ghostly orbs, rods and any other evidence of the presence of angry spirits…
…and with spirits in mind, our last stop on the tour was La Carafe Wine Bar, thought to be the oldest commercial building in Houston. La Carafe is believed to be haunted by the ghost of a former barkeeper…but today, what we see is 'a piece of living history, a cozy tavern that hasn't changed much in 125 years.'
Many thanks to all who made the Frightseeing Bus Tour a success, especially the intrepid Ghostbusters who bought tickets for the tour! Thanks also to those who were unable to attend but who nevertheless donated to the Scholarship Fund.
Many thanks to Julia Ideson library volunteer Pat Vandenburg and to Jim Parsons of Preservation Houston for so generously giving their time on such a beautiful Fall day.
Click here to view photos from the 2013 Frightseeing Fundraising Tour