Frightseeing Fundraising Tour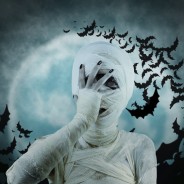 You're invited to tour Houston's most haunted! Our meeting place will be Houston Market Square – historic park in the middle of downtown Houston. $5 parking is available daily at Market Square Garage at 300 Milam which is conveniently located across the street from the park. Look for our chartered bus, with balloons to identify our tour!
Hop on at 10 a.m. for a guided bus tour to these spine-chilling locations:
Julia Ideson Library (disability access provided with elevator to 2nd and 3rd floor of building)
Glenwood Cemetery (disability access provided with electric cart)
Old Jefferson Davis Hospital
La Carafe Wine Bar (Bring cash for a refreshing beverage of your choice at this most bewitching bar!)
Treats for all!
Goodie bags for each ghoul and goblin
Water and box lunch included!
Raffle drawings – bring cash for raffle tickets to win prizes!
$5 raffle ticket to guess correct amount of candy corn in jar
$10 raffle ticket to guess exact dollar amount of coins in jar
$20 raffle ticket to win framed photo of the moon (taken by the late George Phares)
$20 raffle ticket to win two Texans football game tickets (value $135 per ticket)
Helpful tips:
Wear comfortable walking shoes. We will be walking through the library and cemetery for extended periods of time.
Watch the weather: layering is always a good idea to wrap up when a ghostly wind blows through or remove when the devilish sun heats up!
Bring an umbrella -just in case!
Water, a few treats, and a box lunch are provided on the bus, but if you have special dietary needs, it's best to come prepared with your own ghoulish mix!
For extra phantom fun: download the Ghost Radar app on your phone (Android and iphone apps available!). Bring your phone fully charged to read what the dead have to say on our tours!
Scaredy cats beware! Look forward to ghost stories, spirit tales and opportunities to learn of other nearby haunts in Texas.
Ghostbusters! Bring your digital camera to catch orbs and rods from the spirit world!
Proceeds benefit Smith-Phares Memorial Scholarship Fund, which provides scholarships for Wolff Center for Entrepreneurship at the University of Houston C.T. Bauer College of Business.
Register and pay online:
Register and pay by clicking the Add to Cart button below, then selecting the number of tickets on the PayPal option screen. Your transaction is safe and secure with PayPal!